---
Personal Trainer Massachusetts
Personal Trainer
North Carolina
Personal Trainer South Carolina
---
You can view the bio of each Delaware Personal trainer listed in your City or Town by clicking on the name/photo and contact them individually through there webpage

You can also be contacted by multiple personal trainers by simply filling out this form.

Our associates cover the areas listed in the State of Delaware.
Wilmington DE Personal Trainers
Personal Trainer Phil
Personal Trainer Service Area in:
New Castle County, DE, Pike Creek, DE. Hockessin, DE, Newark, DE, New Castle, DE, Christiania, DE, Bear, DE & Surrounding Areas.
My name is Phil and I train clients as a Certified Personal Trainer (NASM-CPT) and a Certified Strength and Conditioning Specialist (NSCA- CSCS). Want to lose weight & tone up? My cutting edge plans have led to countless success stories for both men and women of all ages. I create effective plans designed just for you based combining your unique goals and advanced movement testing. I can provide you with the safest, fastest way to tone up and get in shape fast! You will not find a more dynamic, complete, fun, results driven trainer.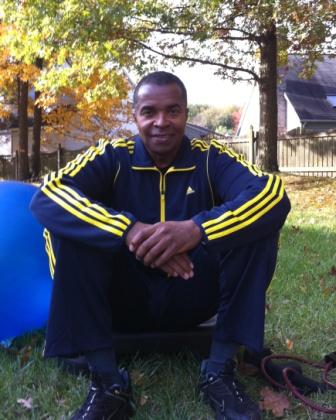 Personal Trainer Jerry
Personal Trainer Service Area in: Wilmington, Newark, Pike Creek, DE, New Castle, DE, Bear, DE, Glasgow, DE, Middletown, DE, Odessa, DE, Townsend, DE, Hockessin, DE, Landenberg, DE, Greenville, DE, Centreville, DE and vicinity.




Jerry holds a Master's degree from American University, a Bachelor's degree from Cornell University, and is a Certified Personal Trainer through the Aerobic and Fitness Association of America (AFAA). He is a fitness instructor with the YMCA of Delaware and trains private clients in their homes and other local gyms. Jerry serves a diverse client population and gets tremendous satisfaction from training, coaching, motivating and supporting each client on his or her path to a healthier lifestyle. He uses an integrated, challenging and motivational training approach, and strives to help every client have a "break through" and commit to maintain a healthy lifestyle for the long term.

---


Personal Trainer Lisa
Personal Trainer Service Area in: Newark, DE, Middletown, Pike Creek, DE Hockessin, DE, Newport, and Concord Pike




When training with me, you will have a good time as I smoothly ease you through a great workout or push you through a high-intensity kick-butt workout if that's what you need! With a warm and friendly manner, I will offer a complete workout, as well as educate you in the process of each session. Whether you are looking to lose weight, gain muscle mass or strength, are training for a competition or sport, or are simply striving to obtain the many benefits of living a fit and healthy lifestyle, I am here to motivate and push you along the way to get you the results you desire!

Contact an In-Home Personal Trainer in Delaware
Learn more about in-home personal training. Submit your name, e-mail, address, city and any comments/ questions you might have

Personal Fitness Trainers Listed By City/ Town

Delaware In-Home-Personal-Trainer Service Areas

Personal Trainer Wilmington
Personal Trainer Service Area in: Wilmington, Delaware and surrounding areas which include Greenville, DE, Bear, DE, New Castle, DE, Hockessin, DE

Personal Trainer Greenville, DE
Personal Trainer Service Area in: Wilmington, Newark, Pike Creek, DE, New Castle, DE, Bear, DE, Glasgow, DE, Middletown, DE, Odessa, DE, Townsend, DE, Hockessin, DE, Landenberg, DE, Greenville, DE, Centreville, DE and vicinity.

Personal Trainer Newark, DE Personal Trainer Service Area in:

Newark, DE, Middletown, Pike Creek, DE Hockessin, DE, Newport, and Concord Pike
Home Personal Training Site Map
Personal Trainer Colorado | Personal Trainer Pennsylvania | Personal Trainer New Jersey | Personal Trainer New York
Personal trainer Delaware | Personal Trainer Maryland | Personal Trainer Massachusetts

Personal Trainer Virginia | Personal Trainer South Carolina
Personal Trainer Georgia | Personal Trainer Florida | Personal Trainer Arizona | Personal Trainer California


---