and the local areas.
With over 20 years of experience as a Certified Personal Trainer and Lifestyle Fitness Coach, Mary Beth has developed a unique ability to quickly understand each of her clients' individual goals and, most importantly, their obstacles to achieving their desired results.
Mary Beth has extensive experience in the health and fitness industry. She offers her personal training in a variety of formats: one-on-one, partners, small groups and classes. Over the years, she has provided her services to people in their homes, at personal training studios, physical therapy facilities, corporate gyms and luxury hotel spas.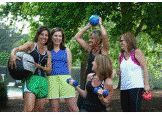 Mary Beth makes exercising enjoyable by implementing effective exercise technique with variety, in a positive and motivating atmosphere. Her workouts are well rounded and include core, balance and flexibility exercises along with strength training.
By integrating her nutritional and life coaching expertise into each clients personal training programs, she creates a wellness lifestyle approach that goes beyond what personal trainers typically offer.

Mary Beth works with all age groups: teenagers to seniors. Her philosophy is that exercise improves the quality of life no matter what age. Her ability to motivate and coach clients towards reaching their goals attributes to the success and respect she has earned.
First session always complimentary! Try before you buy it!