and surrounding areas.
Experience- Over 10 years of experience working with many different populations including athletes to first timers. My interest in proper body mechanics, efficiency of movement, injury prevention and an enjoyable experience are vital to client success and goal achievement.
Fitness Philosophy- All success comes from within and everyone must believe in themselves and always focus on the positive.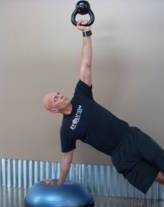 Training incorporates integrated, dynamic functional movements that challenge the body to become stronger and more efficient, reducing injuries and propagating a highly desirable quality of life.
Functional equipment includes kettlebells, training ropes, weights, stability and bosu balls, boxing and kicking bags, and TRX suspension trainer. Sports training specifically basketball, tennis, and volleyball.
Scott is the proud father of 3 and is an avid tennis player and believes that it is imperative that the mind and the spirit be nurtured along with the body.