I am a Certified
Personal Trainer in Del Mar, CA
and the areas listed above in California.
For the past five years, I have been improving the lives of many dedicated San Diego and North County residents. I believe in all my clients and I believe where there is a will, there's a way. It takes an enormous about of discipline and determination. My techniques soften the blow by making workouts fun, challenging, and a bit different each time.
I hold a bachelor's degree in Clinical Nutrition from University of California, in Davis. I am certified by National Association of Sports Medicine and I am recognized as a Certified Strength Trainer by the National Strength and Conditioning Association.
I will help you:
Assess your physical condition and track changes
Set goals
Learn proper strength training technique
Improve endurance
Find motivation
Improve your appearance
Feel better
Improve your health
Gain muscle and lose fat
Tone up
Improve mental alertness
Reach your goals
I offer 1-1 personal training that includes a personally designed fitness program that is based on your fitness level. In all cases, a fitness assessment is required to set the appropriate program that fits you. I match up your goals along with what your body's needs. I have experience with seniors, men, women, children, teens, athletes, pre/post pregnancy, pre/post menopause, and corrective exercise.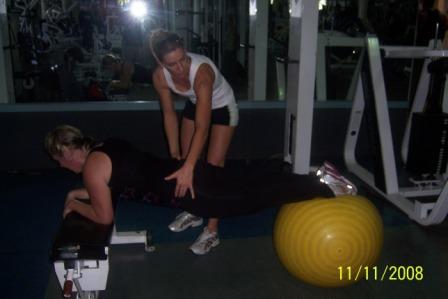 Group training is a great way to stay accountable. In group training, I will except up to 3 people in 1 group. I can get you to any goal you set as long as you are ready to do the work. Enjoy a fun and motivating program that gets you results.
Along with any personal training program, a nutrition assessment is done. Nutrition is 90% of all goals reached. Nutrition packages are purchased separately. Please refer to other services offered to help you reach your goals.
I look forward to helping you achieve your fitness goals!